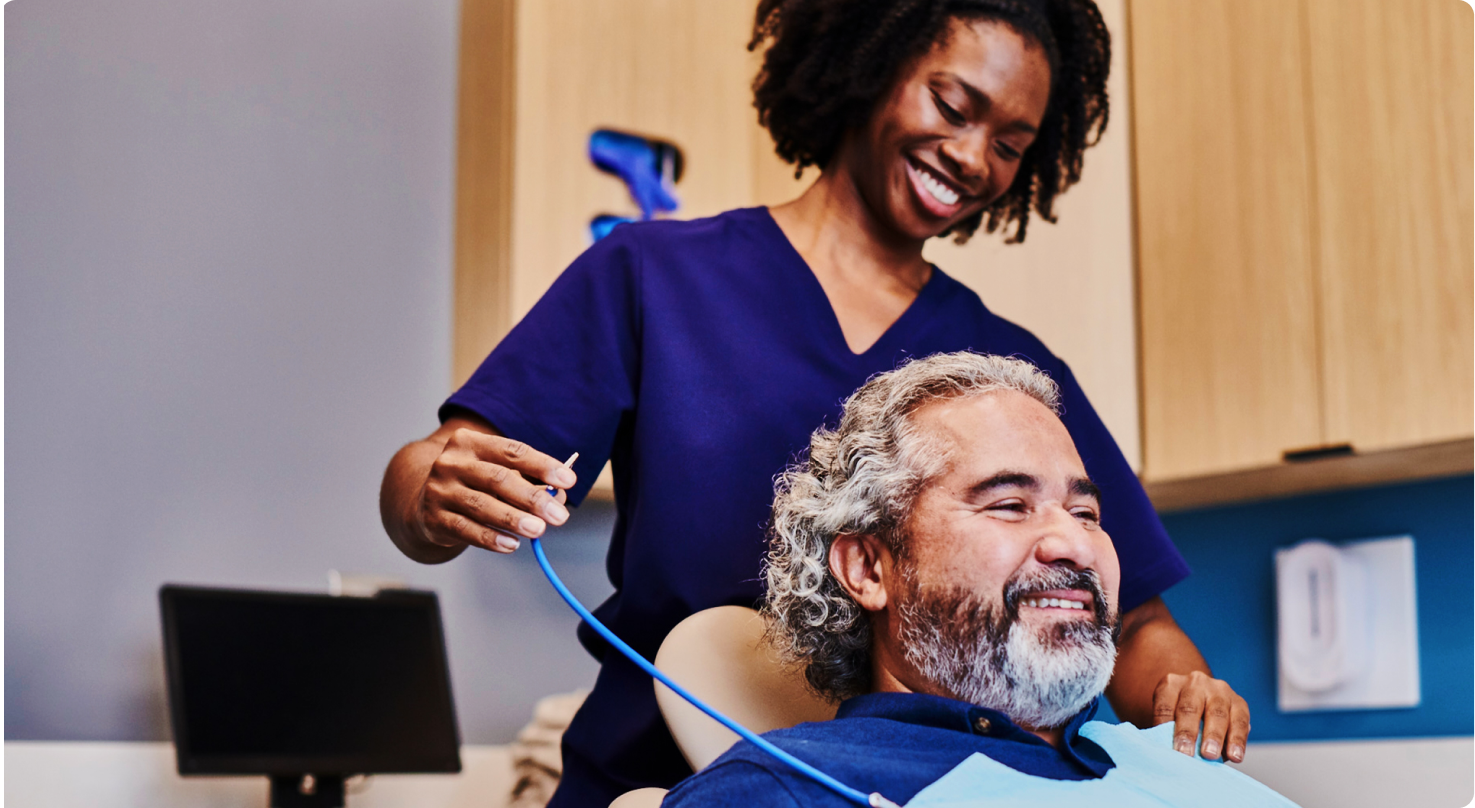 Dentures in Blasdell, NY
Whether you need new dentures, replacements or denture repair, your local Aspen Dental has the right fit for you and your budget. With the convenience of our on-site labs, meeting all your denture needs is easy. The best part? We'll refine them until you're satisfied, or you'll get your money back. Book your visit today.
Aspen Dental in Blasdell, NY
Hours
8:00 AM
-
6:00 PM
9:00 AM
-
7:00 PM
8:00 AM
-
6:00 PM
8:00 AM
-
6:00 PM
8:00 AM
-
1:00 PM
Closed Today
Closed Today
Store Hours:
Day of the Week
Hours
Monday

8:00 AM

-

6:00 PM

Tuesday

9:00 AM

-

7:00 PM

Wednesday

8:00 AM

-

6:00 PM

Thursday

8:00 AM

-

6:00 PM

Friday

8:00 AM

-

1:00 PM

Saturday
Closed
Sunday
Closed
Following ADA guidance, this office is temporarily closed.
Right Care. Right Now.
Smile anytime. We accept walk-in denture visits at our 1000+ locations. Whether you're a first-time denture wearer or need a simple adjustment, you can count on our care teams to deliver fast, affordable service in our on-site labs.
Returning patients, call (844) 755-0172 or contact your Aspen Dental office to schedule an appointment.
Dentures fit easily into your life
At Aspen Dental, we believe you shouldn't have to compromise quality for affordability or the other way around. You can get custom-crafted, natural-looking dentures at a great price—all at a location near you.
Denture warranties

Life throws a lot at your dentures. So, there's no reason you should ever worry about cracks and fractures caused by a flaw in craftsmanship. Our Molar-to-Molar Warranty holds us accountable for denture repair and replacements for up to 7 years.

Affordable dentures

Everyone deserves a confident smile. That's why we offer multiple dentures at multiple price points—so there's an option for every budget. With our labs right on site, you can get smiling again, fast. Plus, enjoy flexible financing solutions for every denture we offer.

Money back guarantee

As your dentures care team (and your neighbor) we want to make sure you're 100% satisfied. We'll work tirelessly to ensure that happens. But if you're not 100% satisfied, we'll refund 100% of your money. It's really that simple.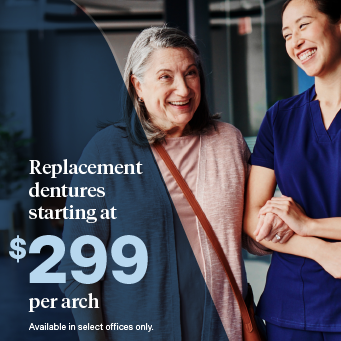 Smile at this special offer
For a limited time, your local Aspen Dental office is offering replacement dentures starting as low as $299 per arch.
Frequently Asked Questions
Featured Blog Posts
What Are Snap in Dentures with Implants (and Are They Right for You?)

Do you have questions about snap in dentures with implants? Wondering if they're right for you? Keep reading.

The Real Costs of Dentures in 2022

Curious to know how much dentures really cost? Learn all you need to know in this guide

Denture Repair 101: All Your Questions Answered

Your guide to everything you need to know about denture repair!
Great expressions. Lasting impressions.
"I am deathly afraid of going to the dentist since a horrible experience as a child. I came to Aspen Dental for top teeth removal and dentures. They gave me medicine to take the night before and then when I went more was given. Best decision I have made. I love and appreciate the smile I now have. The whole team is great!!!"
- Rennie H.
Great expressions. Lasting impressions.
"I am Highly impressed with Aspen Dental. The staff are very friendly and helpful. The dentist is as well. I've had dentures made previously and they were never right! He nailed it the first try! They're beautiful! You'd be crazy not to go to Aspen!"
- Meck T.
Great expressions. Lasting impressions.
"Very very pleased with my visit. I've had a lot of bad dental experiences, especially recently with having to get partial dentures in my 20's. The environment was clean and comfortable, but my main thing is how helpful and kind the staff was, I have very bad social anxiety and I was nervous but was treated kindly and with respect. Dental problems can be overwhelming and embarrassing, so thank you Aspen for a helpful and friendly experience."
- Cox A.
Great expressions. Lasting impressions.
"The staff was terrific and made me feel welcome. They took all the embarrassment out of the process of getting dentures, and were compassionate about how sensitive this process is for me. They actually seem to LIKE their jobs, and it shows!! I drove over 3 hours to get to the Aspen Dental practice I heard about -- and their service and staff is worth every mile!! Thank you Aspen Dental!"
- Al-Jamali S.